South by Southwest
The Nine British Art is delighted to be continuing its fruitful relationship with Jeremy Gardiner this summer with this touring exhibition from one of Britain's leading landscape artists. South by Southwest focuses on the coastline from Ilfracombe, North Devon to St Margaret's Bay, Kent and confirms Gardiner is at the peak of his career.
The exhibition will be touring to St Barbe Museum & Art Gallery in Hampshire until 22nd March and the Falmouth Art Gallery from 28th March – 13th June before showing at The Nine British Art from 14th June – 10th July. We are very much looking forward to show the thirty new paintings.
As Jeremy says, South by Southwest is the culmination of a five year voyage around Britain's south coast, a "seaside odyssey" as he calls it. What makes Gardiner's works stand apart is his judicious and innovative use of colour, shape and texture. One glimpse at this new body of works confirms that his is an almost spiritual quest to understand the coastal landscape which has always been an inspiration.
TOURING EXHIBITION
St Barbe Museum & Art Gallery, Hampshire, 24 Jan – 22 Mar 2020
Falmouth Art Gallery, Cornwall, 28 Mar –13 Jun 2020
The Nine British Art, London, 24Jun – 10 Jul 2020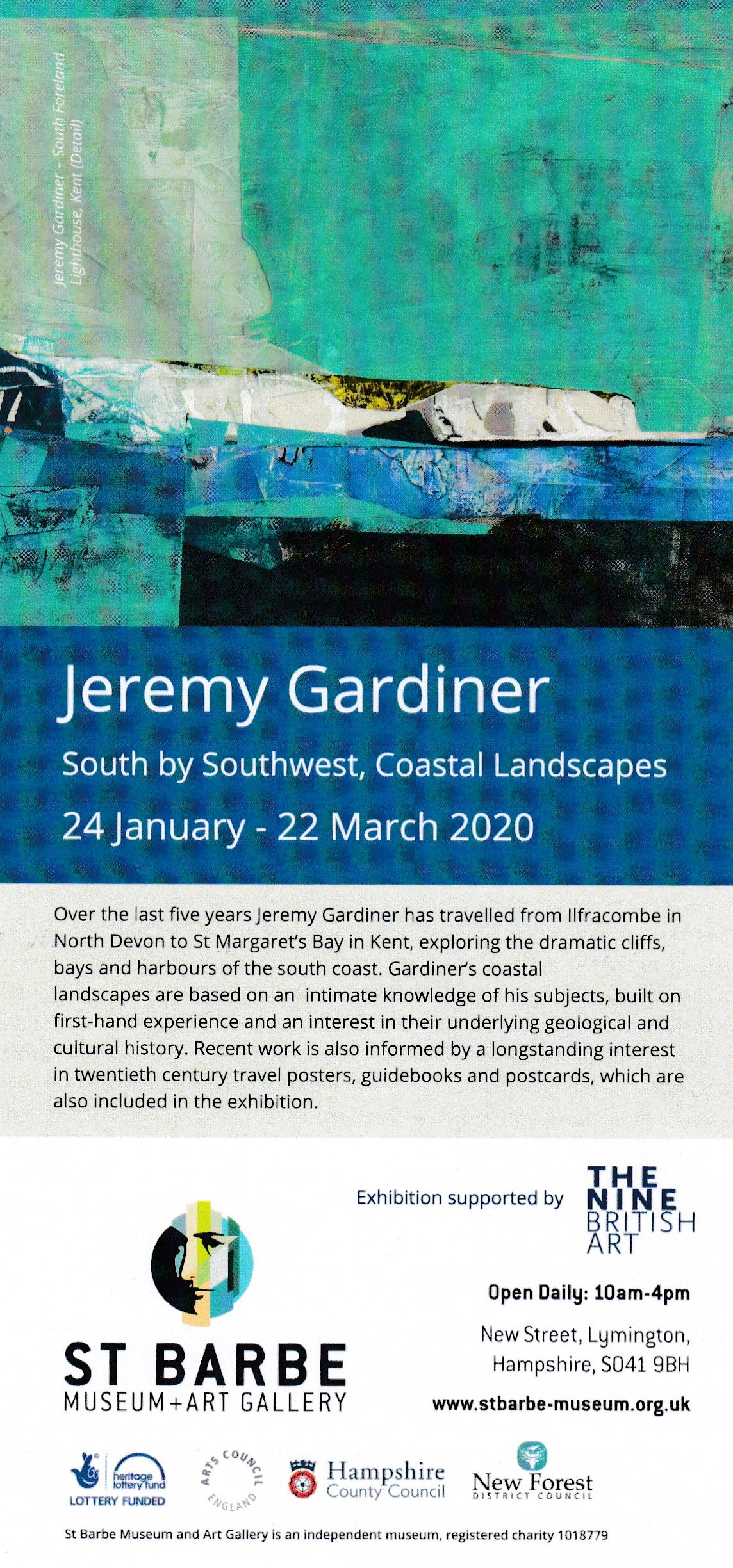 Trained at Newcastle University and the Royal College of Art, Jeremy Gardiner is one of Britain's leading landscape painters. Through painting and printmaking, Gardiner excavates sedimentary layers of geological history, depicting contemporary landscapes shaped by both humankind and the forces of nature.
His work creatively transforms the lessons learnt from pioneering modern British landscape painters such as John Tunnard, Ben Nicholson, Peter Lanyon and the American artist Richard Diebenkorn. Despite living in the US for fourteen years, and painting in both Brazil and Greece, Gardiner admits: 'it is still England that stirs my imagination most'.
He is the recipient of many awards including a Churchill Fellowship, a New York Foundation for the Arts Fellowship, and a Harkness Fellowship at the Massachusetts Institute of Technology. His work has received honorary mention from Prix Ars Electronica and, in 2013, was awarded the Discerning Eye ING Art Prize.
A Head of Postgraduate Studies at Ravensbourne University, London, Gardiner was Artist in Residence at Nottingham University in 2010. He has taught at the Royal College of Art and was a founding member of the Department of Digital Arts at Pratt Institute of Art and Design, New York.
His work has been commissioned by General Electric, IBM and NYNEX and is held in numerous private and public collections including BNP Paribas, GlaxoSmithKline, Ente Nazionale Idrocarburi, the UK Government Art Collection, Imperial College and the V&A. Gardiner has exhibited across Europe and in the US, South America, Japan, Australia and China.