July sees the arrival of Three Works x Nine Artists, our summer show of twenty-seven works by nine different contemporary artists. Our aim with this collection is to introduce new and existing clients to artists, both upcoming and highly established, whose work we will continue to hold and exhibit for the foreseeable future. Ahead of his first solo exhibition at The Nine British Art this autumn, we are delighted to preview three enveloping abstract works by Jonathan S Hooper, which blur the boundaries between the Cornish land, sea and air that he understands so intimately. Staying in Cornwall, Richard Fox's Cornish Head 1 is an elegant, translucent alabaster sculpture representative of his adventurous spirit.
Meanwhile, two painterly monoprints and the watercolour Shining Morning, Pendeen Watch, Cornwall, by our hugely popular artist Jeremy Gardiner, also riff on the unique light and sensations of the South West. This is an interest shared by Leigh Davis, too, who adds to the Cornish body of work - received so enthusiastically at his exhibition here last year - with three brand new abstract paintings drawing on Cornwall's wild and rugged scenes. Moving further east, Tim Woolcock's colourful Dorset and Wiltshire landscapes, with their abstract embellishments, evoke the elemental beauty of the countryside. Striking use of colour is also evident in the Gary Wragg works here, which are influenced by his love of Matisse's still-life interiors. As Wragg reflects in the exhibition catalogue, Le Rêve, Palm Tree was produced from the very room at Villa Le Rêve where Matisse worked.
A more sober but no less fascinating palette is evident in Keith Milow's oils layered onto lead, lending an architectural, burnished, oxidised quality to the finished work. Perhaps they find their sculptural equivalent in some of Robert Fogell's distinctive work, too - particularly in Mariner. We can proudly say that Fogell is now solely represented by The Nine British Art.
Finally, Suffolk sculptor Jonathan Clarke offers three new aluminium works which explore everything from deity to the essence of humanity. Our close relationship with each of these artists is reflected in the show's e-catalogue, where Clarke, Davis, Fogell, Fox, Gardiner, Hooper, Milow, Woolcock and Wragg have each contributed detailed comments on their individual works.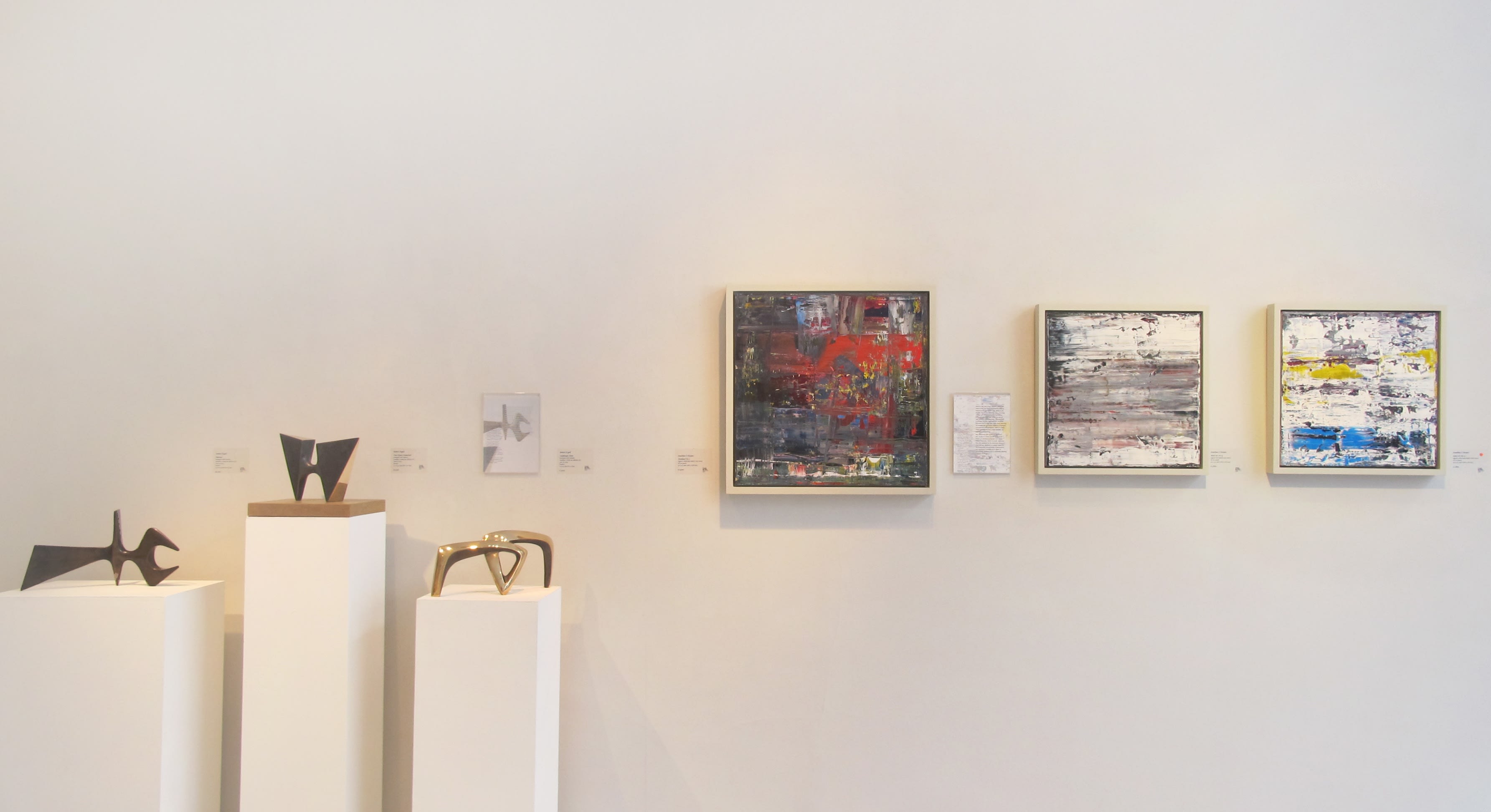 July 9, 2019